TODAY I AM GRATEFUL FOR THE YEAR OF THE EARTH DOG!
MY CHINESE ZODIAC SIGN IS DOG AND TO BE MORE SPECIFIC EARTH DOG
THE CHINESE NEW YEAR BEGINS FEBRUARY 16, 2018 AND THIS IS THE YEAR OF THE EARTH DOG
SO I GUESS THIS IS MY YEAR…OR IS IT?
CHECK OUT YOUR CHINESE ZODIAC SIGN WITH THE LINK ABOVE
what are you grateful for ~ please share…
Thank you!
Year of the Dog

 2018 is the Year of the Dog according to Chinese zodiac. This is a Year of Earth Dog, starting from the 2018 Chinese New Year on Feb. 16 and lasting to 2019 Lunar New Year's Eve on Feb. 4.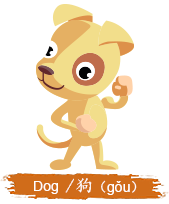 Dog is the eleventh in the 12-year cycle of Chinese zodiac sign. The Years of the Dog include 1922, 1934, 1946, 1958, 1970, 1982, 1994, 2006, 2018, 2030, 2042…
Dog is man's good friend who can understand the human's spirit and obey its master, whether he is wealthy or not. The Chinese regard it as an auspicious animal. If a dog happens to come to a house, it symbolizes the coming of fortune. The invincible God Erlang in Chinese legend used a loyal wolfhound to help him capture monsters.
Earthly Branch of Birth Year: Xu
Wu Xing (The Five Elements): Tu (Earth)
Yin Yang: Yang
People born in the Year of the Dog are usually independent, sincere, loyal and decisive according to Chinese zodiac analysis. They are not afraid of difficulties in daily life. These shining characteristics make them have harmonious relationship with people around.
Strengths
Valiant, loyal, responsible, clever, courageous, lively
Weaknesses
Sensitive, conservative, stubborn, emotional
See more about Destiny by Birth Month

The year of 2018 is the Zodiac Year of Birth (Ben Ming Nian) for Dog people. In general, people with Chinese zodiac Dog sign will have a year full of challenges. Their career may face changes. The financial condition will be not as good as last year. Failed investments may lead to the unbalance of income and expenses. Most of them need to make great efforts and adapt for a long time. During the Year of Dog, they may suffer from sub-healthy body condition. Even though they feel exhausted because of the high pressure from work, they should balance well their health condition and career.
(c) onceuponahotflash, 2018